20 Best Shopify SEO Apps & Tools in 2022
Setting up your own Shopify store is now easier than ever. In fact, you can build and run your brand new eCommerce store in just a day! However, one of the key barriers to skyrocketing your online business is the saturated market with high competition. You are likely to compete with more than 1000+ online shops selling almost similar products as yours to the target audience. In such cases, you need to focus on standing out from those competitors. To set your online apart from market competition, you have to focus on something else apart from ensuring exceptional aesthetics, solid branding, and selling quality products/services. Your Shopify online store needs to rank higher on search engines to boost traffic and attain maximum sales.
A study shows that the first five online store websites in Google SERP receive a whopping 67% organic traffic. The fact alone makes practising SEO approaches for online business growth essential.
To make your online store seen and heard, you need to invest in high performing Shopify SEO apps and tools. If you're confused about choosing the best Shopify SEO apps for your online business, allow us to simplify things for you. In this guide, we will introduce you to the top 20 Shopify SEO apps & tools that will skyrocket your online store in no time.
20 Best Shopify SEO Apps & Tools
1. SEO Manager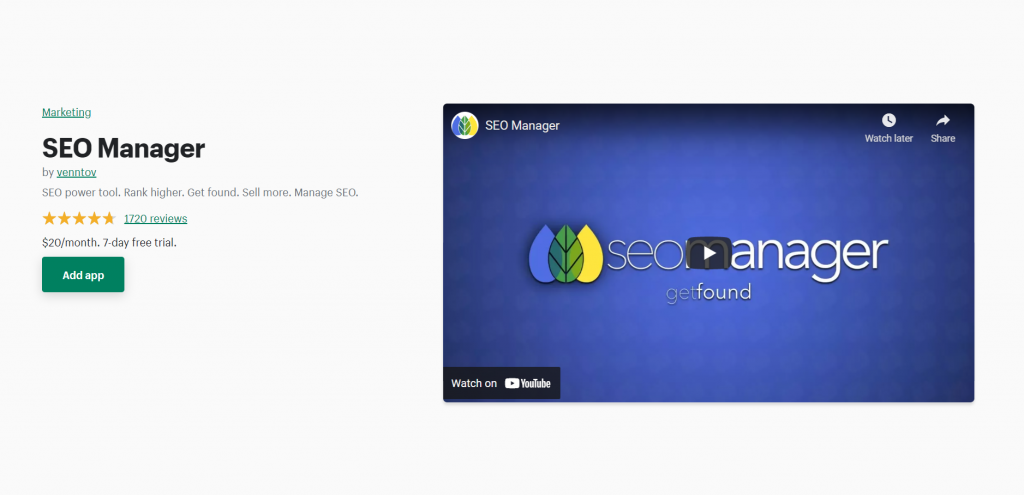 SEO Manager is the most used plugin for the Shopify SEO tool. Often referred to as a super-charged SEO tool, SEO Manager will allow you to understand, determine, and implement SEO approaches to ensure your online store attains a higher SERP ranking. What makes SEO Manager a different Shopify SEO app than others is its real-time feedback feature. Users get feedback on whether their SEO efforts were successful or not. Hence, it allows you to check and recheck all your SEO issues, efforts, and approaches to further scale the online store. If you're a beginner at website optimisation and want to learn more about SEO to boost ranking and traffic, this is one of the best Shopify SEO apps for you!
Price:
SEO Manager offers you a 7-day free trial to try and test the features for your online store. If it fits your SEO approach, you can continue with the plan which will cost you $20 per month.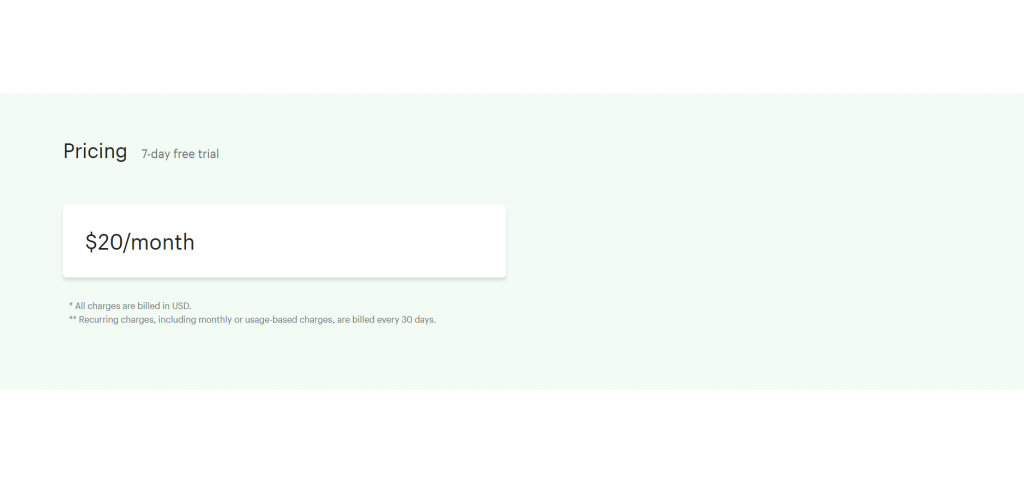 Top Features:
Comprehensive steps for enhancing the website

Bulk edit Meta tags and pre-made templates

Identify and suggest SEO improvements

Recommends highly performing keywords

Identify and fix broken links and 404 issues 

Automated submission and management of sitemap

Provide local business and JSON-LD structured data

Integrates with search console, page speed, SERP simulator, and more
2. Plug in SEO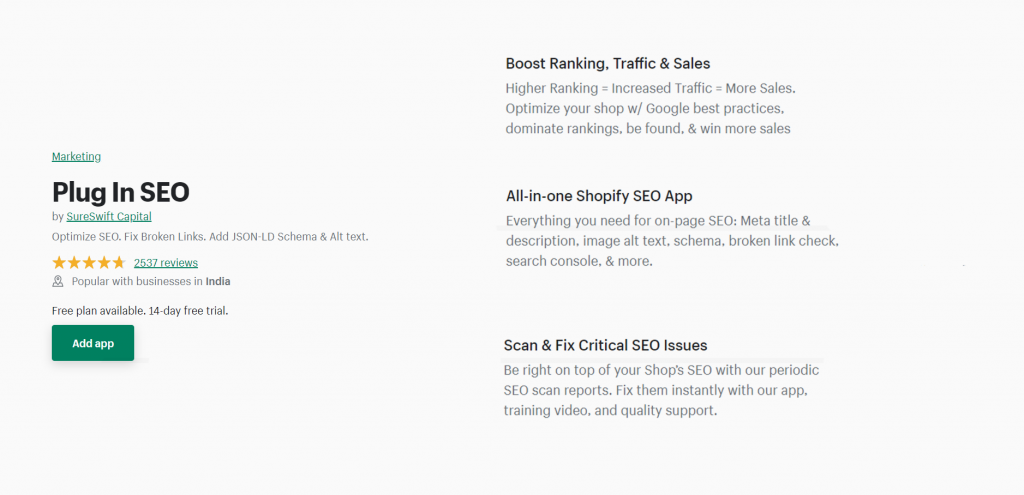 Developed by SureSwift Capital, Plug-in SEO is one of the most preferred Shopify SEO apps by store owners. In fact, more than 30,000 Shopify stores have considered this SEO app to optimise their website's SEO performance and drive maximum traffic. Store owners getting started with SEO can use this plugin for Shopify SEO to get overall detailed documentation on the procedure. The easy to use features of Plug in SEO make it one of the best Shopify SEO apps for novice SEO business owners. If you're looking for a comprehensive SEO solution for your Shopify, this Plugin for Shopify SEO is the best option.
Price:
Plug in SEO app has a free plan which can check the most common SEO issues on your Shopify site while providing complete instruction, support, and email alerts. However, it also offers a Plus plan and Pro plan which will cost you $29.99 per month and $39.99 per month respectively. Choosing paid plan will give you full access to its advanced features.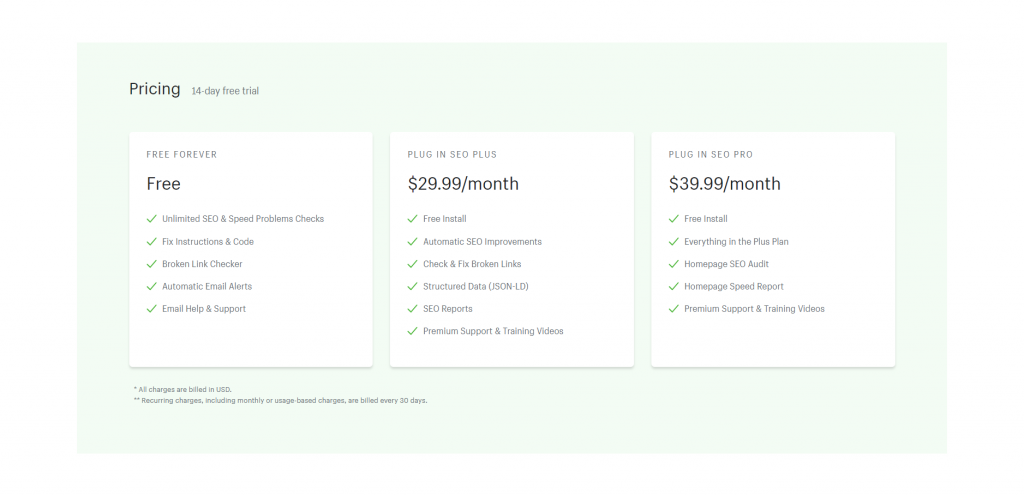 Top Features:
Provide JSON-LD structured data

Comprehensive schema markup for snippets

Bulk SEO data edit in a minute

Check and fix potential SEO issues

Monitor organic traffic rankings and analytics

Broken link, redirect link, and 404 fixes

Automated SEO audits

Target focus keyword for boosted organic search
3. Smart SEO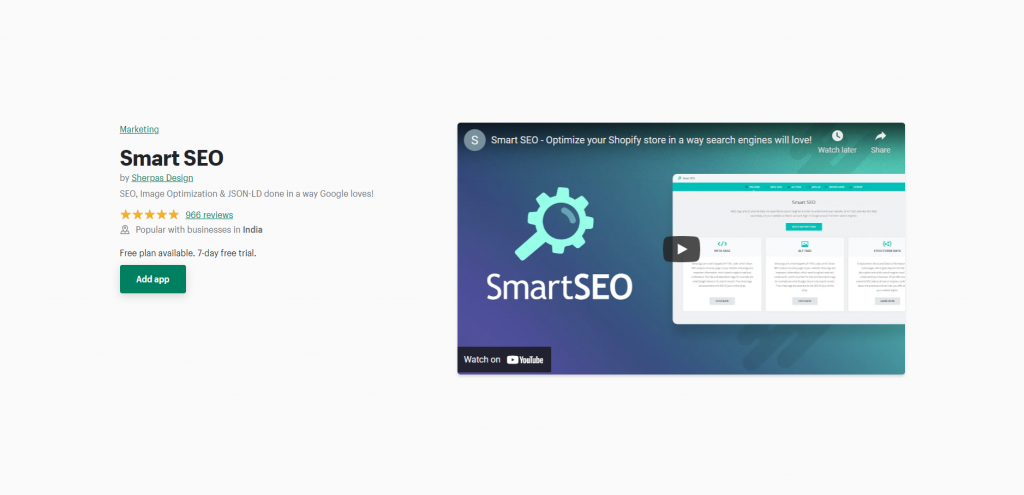 Smart SEO is developed by Sherpas Design – a company helping online businesses to attain a seamless experience on Shopify. Sherpas Design has three apps on the Shopify store – Translation Lab AI Translate, Smart SEO, and WhatShare. Out of all three Shopify apps, Smart SEO is the best and highest rated by Shopify businesses. Smart SEO can suitable for businesses who need basic SEO features at a budget-friendly cost. If you're one of those businesses running an online store with multiple languages, this Shopify SEO app is perfect for you.
Price:
Smart SEO's pricing is lower than other Shopify SEO apps like SEO Doctor or SEO Booster. Although, you still get a 7-day free trial and get access to all features. However, after the free trial, you've to pay $0 to $29.99 per month to integrate and use this app.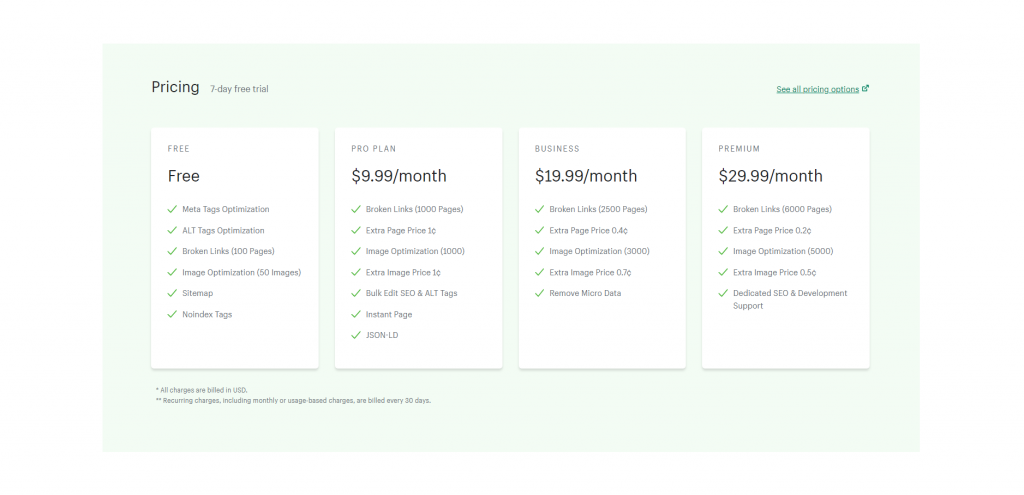 Top features:
Automated Meta tag and Alt tag generation

Adding JSON-LD structured data to search engine

Manage Shopify store sitemap

Identifies and fixes broken, invalid, and redirect links

Support multi-language
4. SEO Booster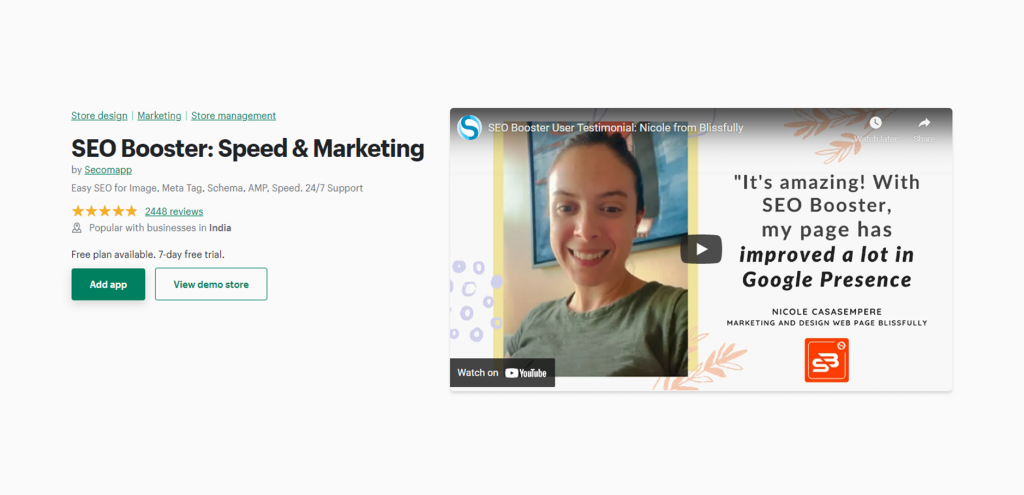 SEO Booster is made by Seocomapp – a company that focuses on developing apps specifically for Shopify to attain positive sales. This Shopify SEO app provides a one-size-fits-all SEO solution to store owners. It is considered one of the high-rated and best Shopify SEO apps presently with 1494 reviews on the Shopify App Store alone! SEO Booster has about 1235 five-star reviews from online store owners of various industries. If you have more than thousands of products in your online store, SEO Booster is the best Shopify SEO app suitable for you.
Price: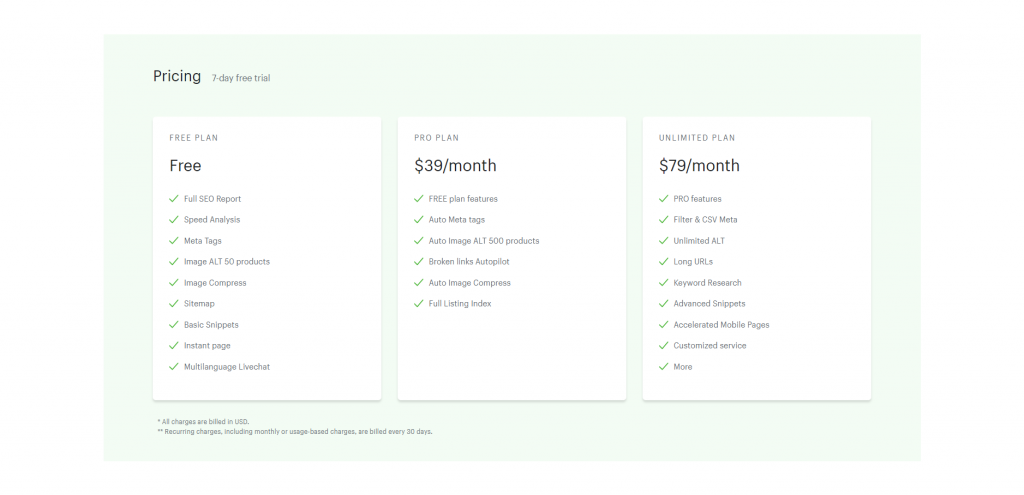 With SEO Booster, you get a Free plan, Pro plan, and Unlimited plan. You can get access to some features in the app for 7 days and continue with your free plan. If you wish to use the full potential of this app, consider opting for the Pro plan or Unlimited plan which will cost you $39/month and $79/month respectively.
Top Features:
Automatically fixes all site SEO issues 

Update image Alt texts every day

Data structure with Full JSON-LD

Identifies broken, invalid, and redirect links

Showing trending keywords from specific geographical areas

Competitor's analysis (SEO score, checklist, and page rank)
5. SEO Doctor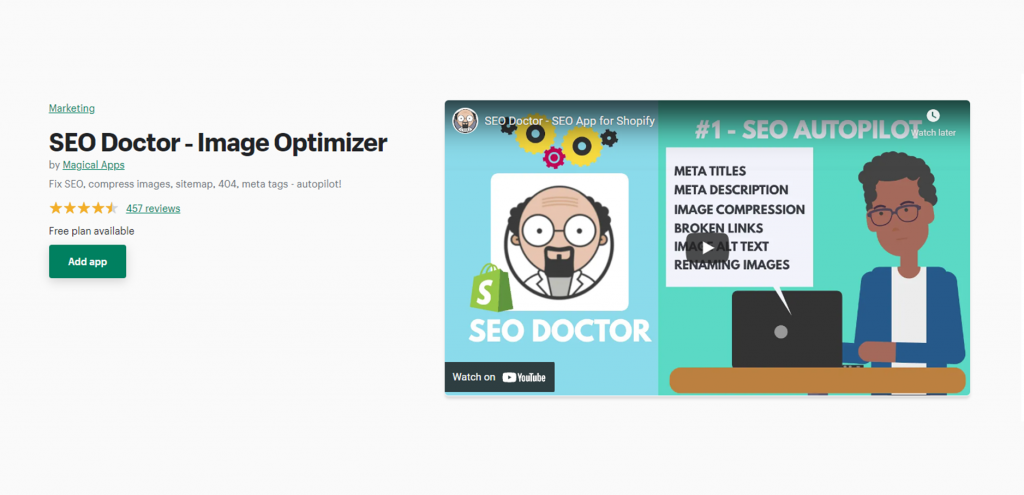 Another best Shopify SEO app that offers various highly advanced features to help automate the SEO auditing process. With SEO Doctor, store owners get the option of set and forget. It basically means that store owners have to simply set up the app just once and watch it solve every potential SEO-related problem automatically. True to its name, SEO Doctor scan your entire Shopify website and fix all the underlying issues related to your SEO. The automation features allow you to save considerable time and energy in skimming through every area of your website. If you're new to SEO and don't want to spend hours running your website SEO audit, SEO Doctor is the Shopify SEO app that you need to lookout for!
Price:
With SEO Doctor, you get two options – free and paid plan. The only key difference between both plans is the automation feature. The free plan requires you to run an SEO audit for your website manually, while paid plan will perform an automated check to detect and fix all potential SEO-related issues.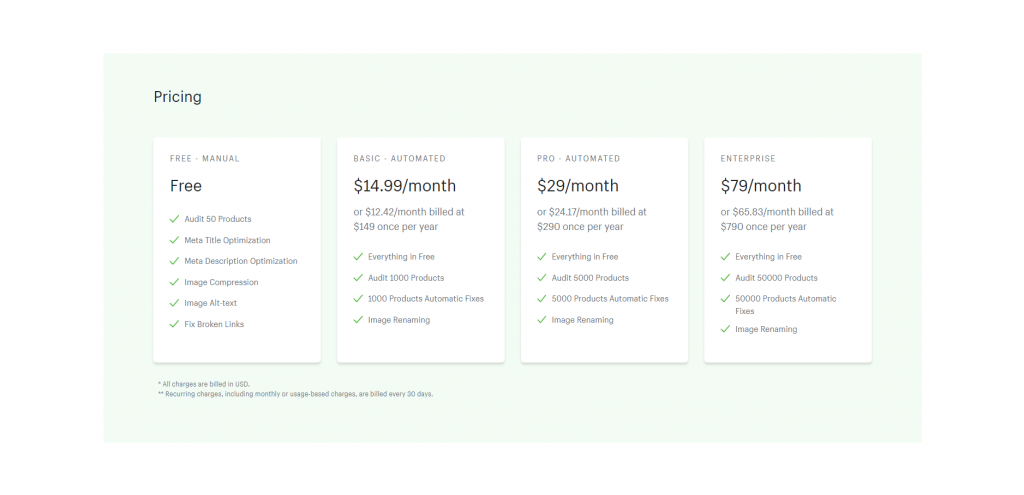 Top Features:
Automated SEO auditing

Meta titles and description fixing

Generate title template

Adding another template variable
6. SEO Suite ‑ SEO Image Optimize
Developed by Avada, SEO Suite – SEO Image Optimise is one of the most effective Shopify SEO apps that allows you to create sections on-page easily. Shopify store owners can use this Shopify SEO app to optimise their website structure and images to match up to Google's search algorithm. No matter the on-page SEO requirement, SEO Suite will ensure your online store gets noticed by search engines and users. The best part? SEO Suite is completely free and easy to use. Meaning any Shopify store owner with even limited technical knowledge can use this app seamlessly. Whether you have a small online business or a large Shopify store, the on-page SEO features of SEO Suite will ensure your eCommerce business attains maximum traffic through image optimisation.
Price:
As mentioned before, the SEO suite is a free Shopify SEO app. Store owners get access to some exceptional features and unlimited usage without paying even a cent! The best part? There are no hidden costs or setup fees. You can get your Shopify store to rank on top of SERP in no time.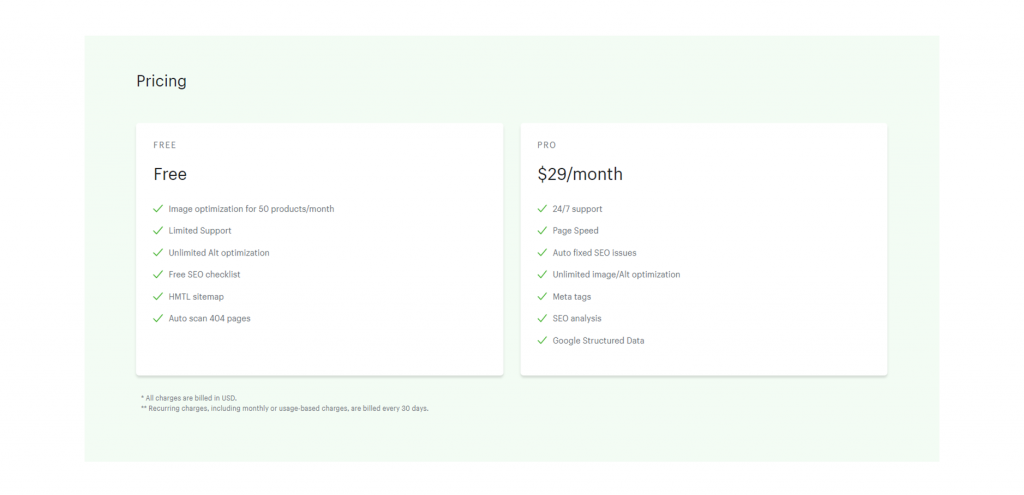 Top Features:
Image ALT tag optimisation

Image quality and size optimisation (automated and custom feature)

HTML sitemap

Auto-add Google structured data

Complete product page SEO analysis

Meta title, URL, Meta description preview on SERP

Canonical tags for content duplication

Verifying Shopify store ownership

404 fixes

Improve instant page loading speed
7. SEO Product Optimizer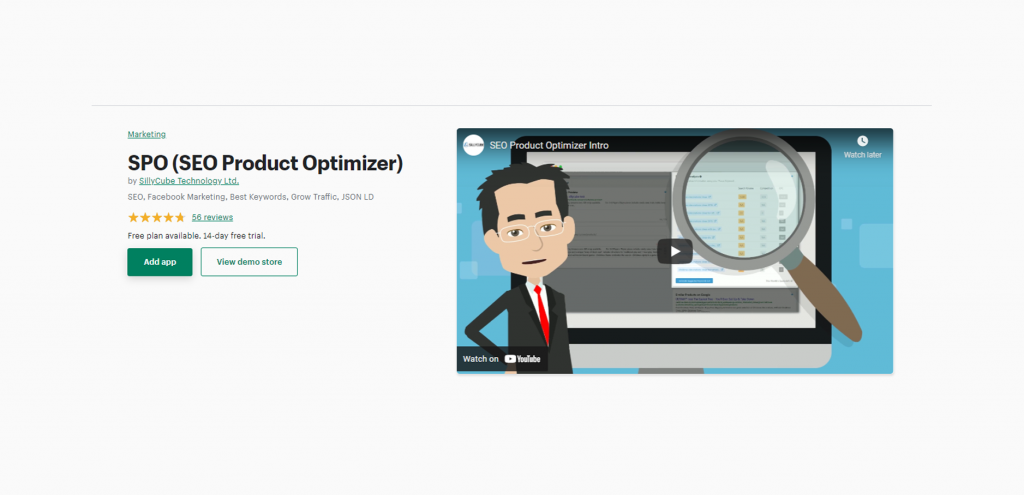 Developed by SillyCube Technology Ltd., SEO Product Optimizer allow you to maximise your traffic from SEO efforts and social media platform with a minimal workload. Shopify store owners get keyword suggestions, web page positioning ideas, and performance of primary keyword that is ranking high in your particular industry. SEO Product Optimizer can also optimise share posts on various social media platforms. If you're a novice store owner with little or no knowledge about identifying performing keywords. SEO Product Optimizer will prove to be the best Shopify SEO App for you.
Price:
SEO Product Optimizer offers a free lite version that provides up to 10 keyword analyses and link preview edits every month. Store owners also get a custom link preview only for social media platforms and support specifically for the Shopify store. Store owners can also consider the basic version which will cost $15.99 per month and consist of some added advanced features – 100 suggested keyword analyses, unlimited and bulk link preview edits, and complete support to all size businesses.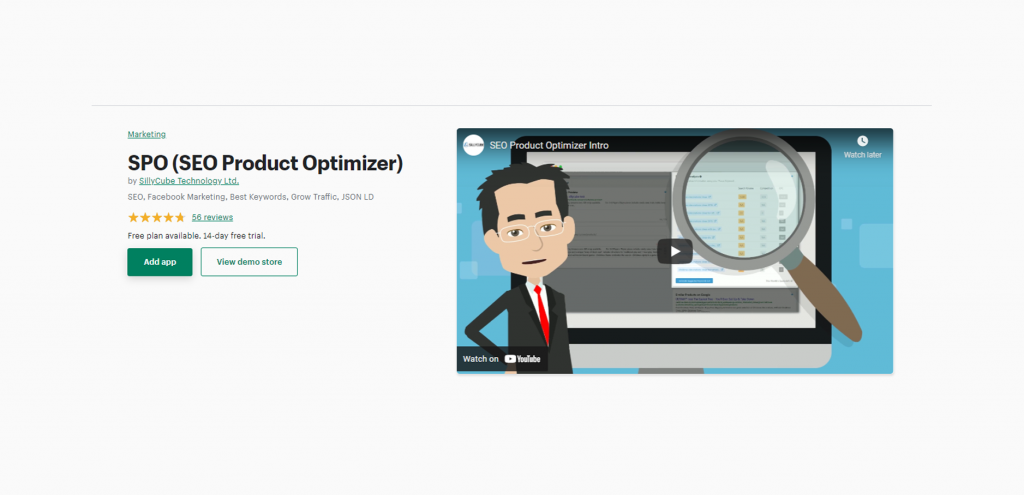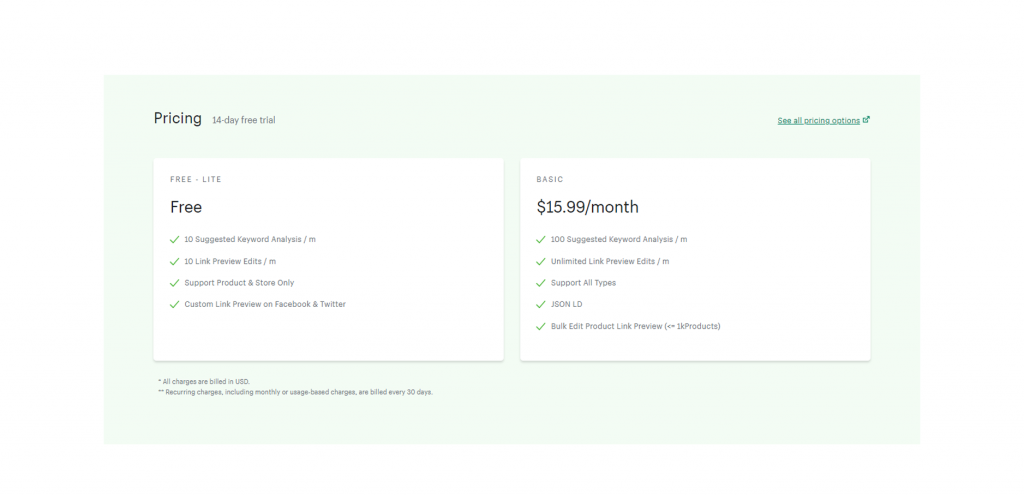 Top Features:
Niche-related keyword suggestion

Custom link preview for social media channels

Support structured JSON-LD data

Bulk edit link previews for products

Informative and effective SEO advice

Centred keyword insertion
8. ReloadSEO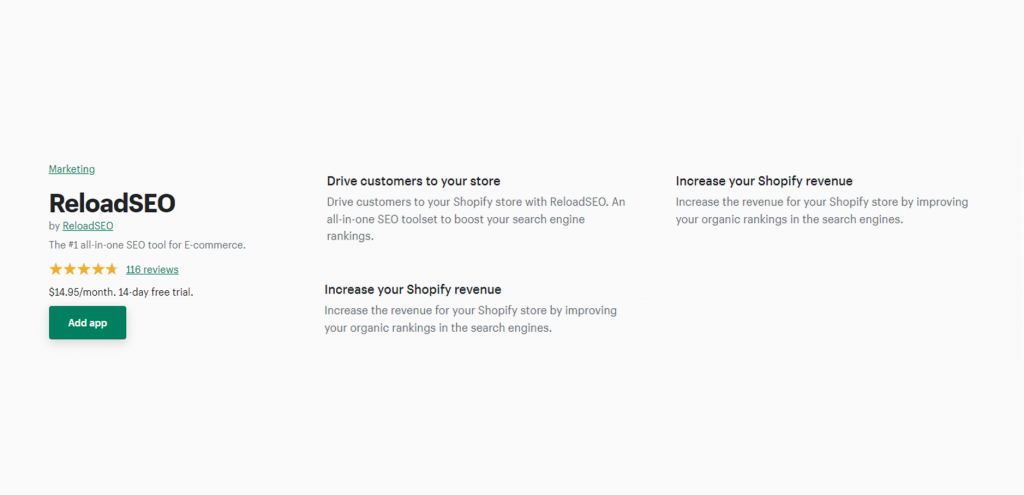 ReloadSEO is an all-in-one best SEO app for Shopify online store that provides business owners with a complete SEO service – from competitor analysis and backlink checking to keyword research and website content optimisation. Compared to other Plugins for Shopify SEO, ReloadSEO offers solid surveillance capability to allow store owners to outrank competitors. ReloadSEO is suitable for all Shopify store owners – from novice SEO learners to seasoned professionals. Using ReloadSEO will help your online store to rank higher on SERP even with a lack of knowledge of SEO, keyword research, and text conversion.
Price:
Shopify store owners can opt for the Starter plan which will have a 14-day free trial, 1000 SKU synchronization, and an SEO dashboard. However, post-trial period, users looking to continue with the app will have to pay $14.95/month.
Top Features:
Up-to-date keyword research

Real-time feedback for SEO writing

Check website ranking across 170 countries (via desktop and mobile device)

Identify and fix underlying issues on your website

Determine top-performing keywords, pages, and website areas requiring optimisation

Competitor content analyses
9. SEO King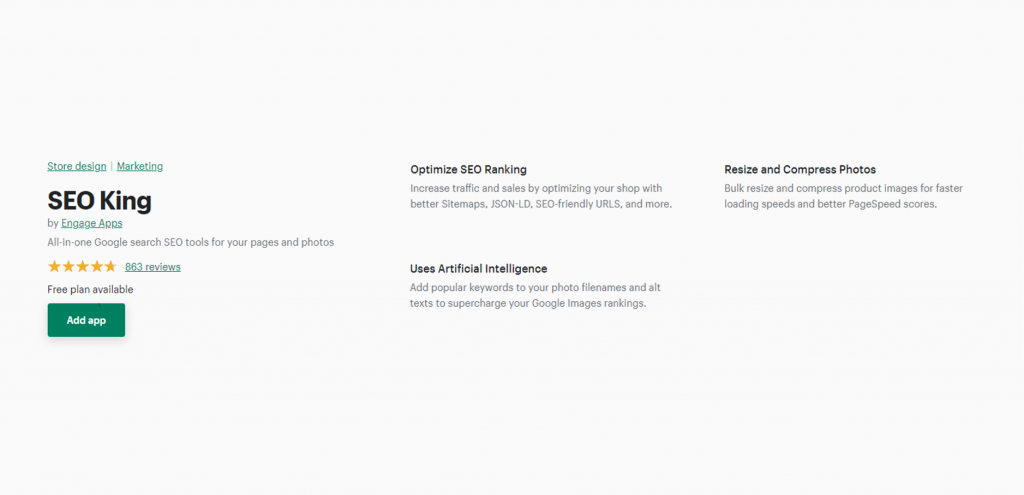 SEO King is one of the best Shopify SEO apps with solid 672 five-star ratings out of 838 ratings. Developed by Engage Apps, SEO King adapts AI to help store owners improve their eCommerce business's search ranking by ensuring every aspect of SEO is covered with up-to-date keyword analysis. If you're looking out for the best Shopify SEO app to optimise image, alt text, product meta titles, and JSPN LD description, you should consider choosing SEO King.
Price:
SEO King offers you four different plans – Free plan, Small Shops plan, Medium Shops plan, and Large Shops plan. Except for the Free plan, other editions offer similar features with advanced settings. You can choose the best plan suitable to your store's demand.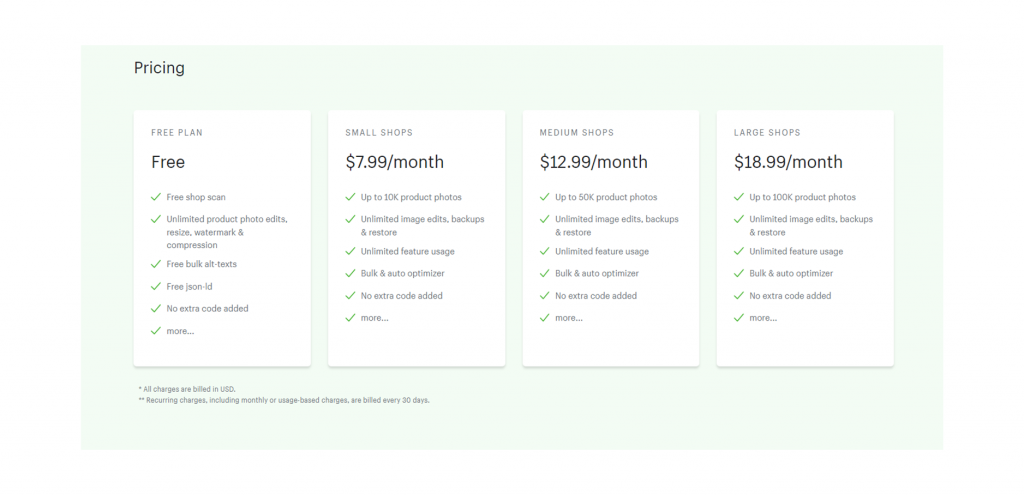 Top Features:
Bulk edit Alt text and Meta tag

Identify top-performing keywords 

Automated AI-based optimiser for keywords and images

The site and JSON-LD management

Online store optimisation in just one click

Product image improvisation

Disabled right click to prevent potential image theft
10. JSON-LD for SEO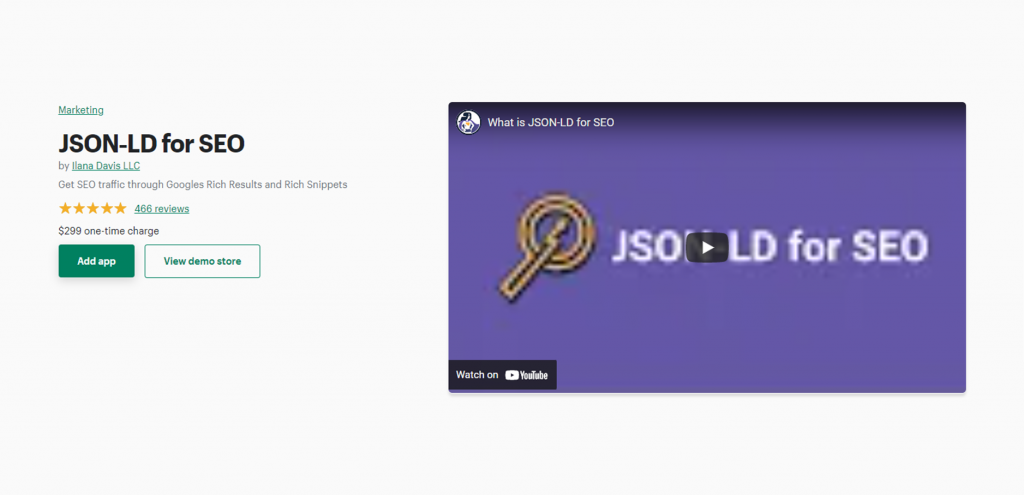 Considered the best "install and forget" app by Google, JSON-LD for SEO simplifies your work by directing maximum traffic to your website through Google's search results and snippets. No matter the number of web pages, this highly advanced Shopify SEO app will situate up to hundreds of code snippets in one spot automatically without your direction. If you're someone who wants to ensure all search engines have adequate and appropriate information about your products or services, consider going for this Shopify SEO app.
Price:
JSON-LD for SEO offers a one-time purchase plan which cost $299.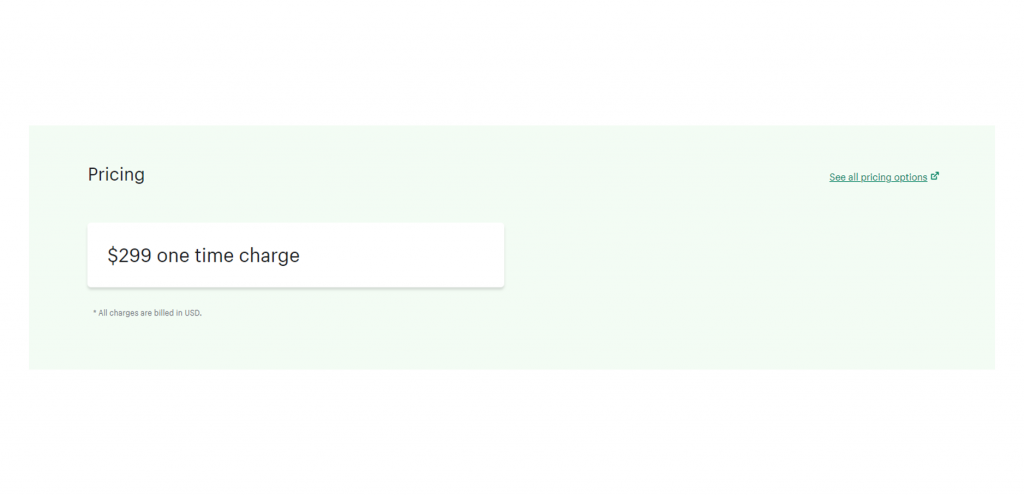 Top Features:
Increased organic search traffic

Rich snippet and search result feature

Boost conversion rate 

Provide product information directly on SERP

Automatically update Shopify SEO data
11. Tiny IMG SEO & Image Optimizer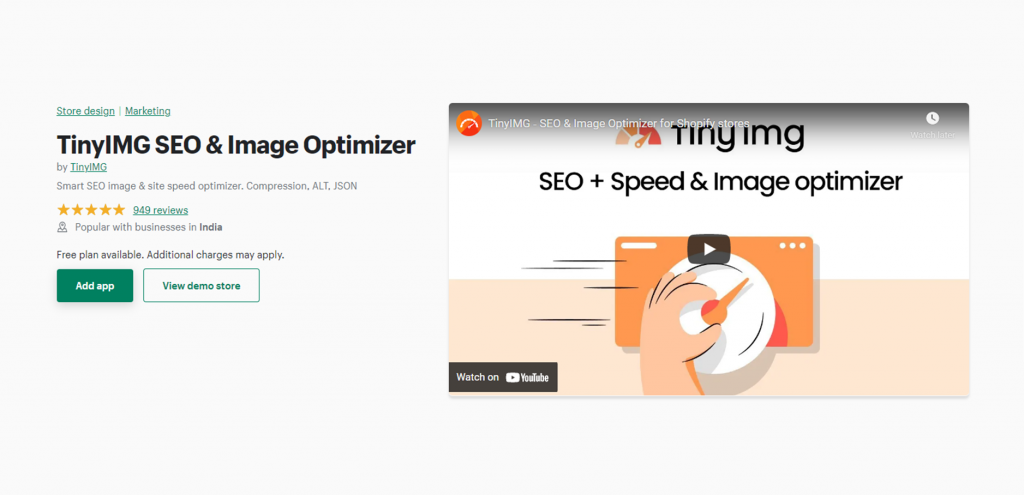 You might have a website with excellent aesthetics and a powerful brand. But, if you don't focus on the page speed, you're likely to miss out on your potential customers. Slow-loading websites often lead to lower conversions, increased bounce rates, and low SERP ranking. Not to forget poor user experience for online store visitors. If you're facing similar issues, TinyIMG SEO & Image Optimizer can come to your rescue. Developed by TinyIMG, this Plugin for Shopify SEO can increase your page loading time by compressing all images in web pages, without affecting the quality. It can also help increase organic traffic for your website by improving the online store's SEO structure and website speed.
Prices:
TinyIMG SEO & Image Optimizer is a free edition Shopify SEO tool. However, there are other additional charges which may vary basis months.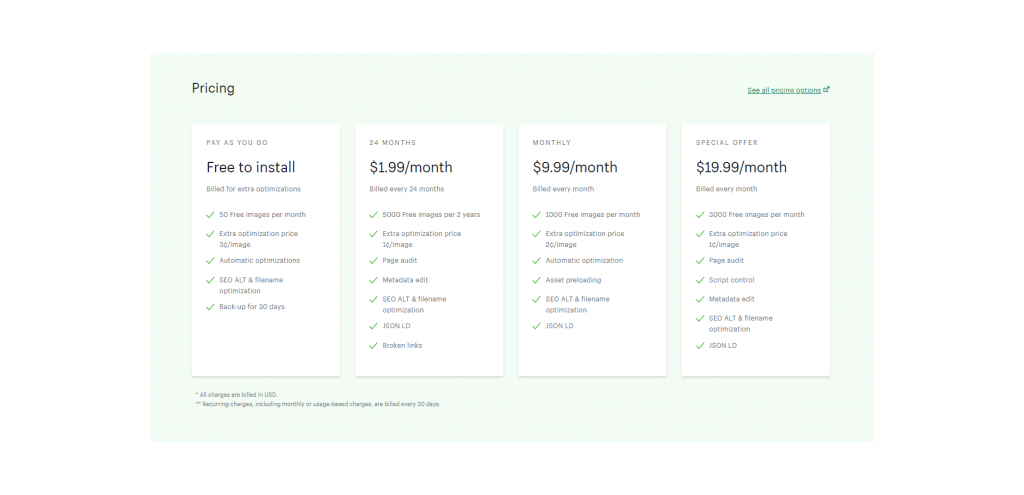 Top Features:
Automatic image and template optimisation

Improves all image-related SEO areas 

Image compression

Identify and fix broken links and redirect issues 

Data structure with full JSON-LD

Image file format analysis 

Live support 
12. SEO Optimizer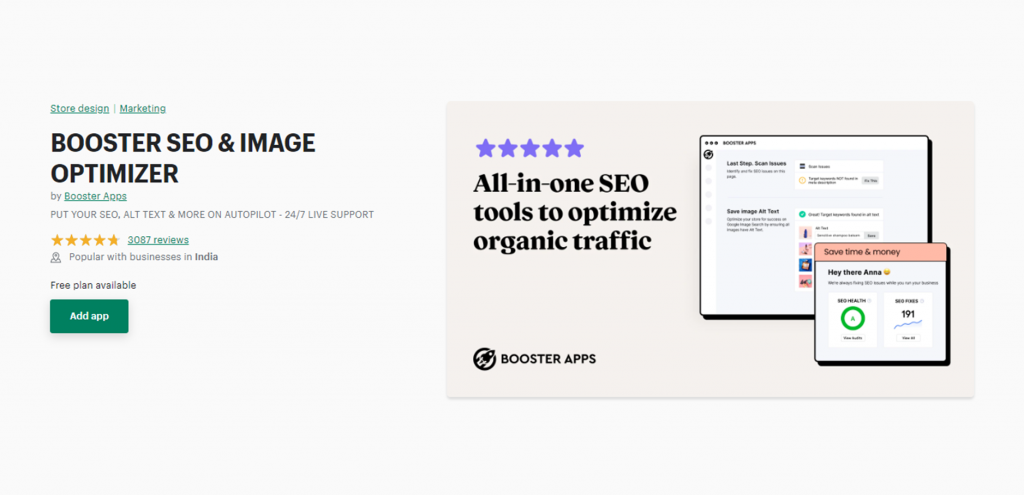 SEO Optimizer is one of the most preferred Shopify SEO apps with more than 382,000 Shopify online store installers on the Shopify App Store. Developed by Booster Apps, SEO Optimize focus on improving SEO features to boost your product ranking on SERP. The latest version of this app promotes search speed to increase the chance of ranking your items on top of the list. What makes SEO Optimizer the best SEO app for Shopify is the no-code installation requirement. Store owners can install this app in one click and start improving their SEO efforts quickly.
Price:
With SEO Optimizer, you get three plans – Free plan, Pro plan, and Premium plan. Their Pro plan and Premium plan offer advanced features and will cost you $34/month and $64/month respectively.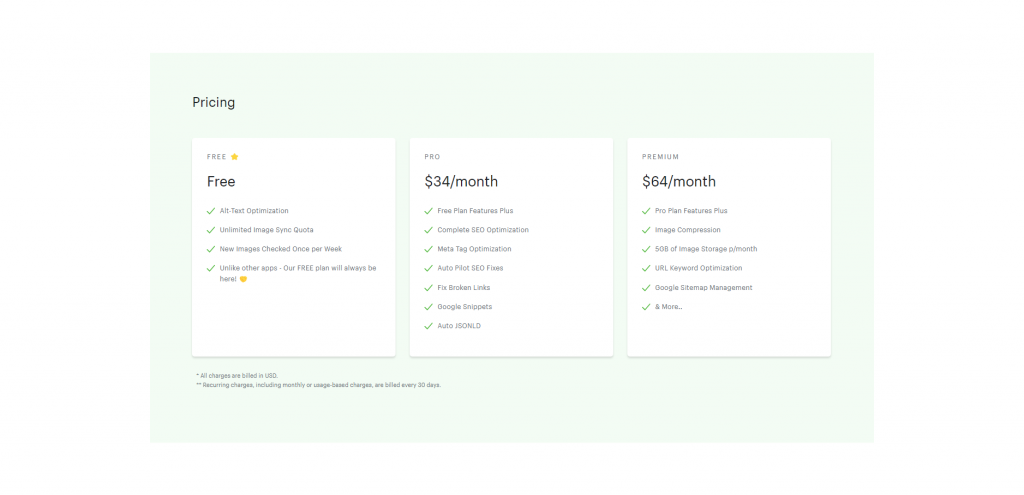 Top Features:
Automated SEO Optimizer

One-click install for SEO manager

24/7 US-based SEO support
13. FavSEO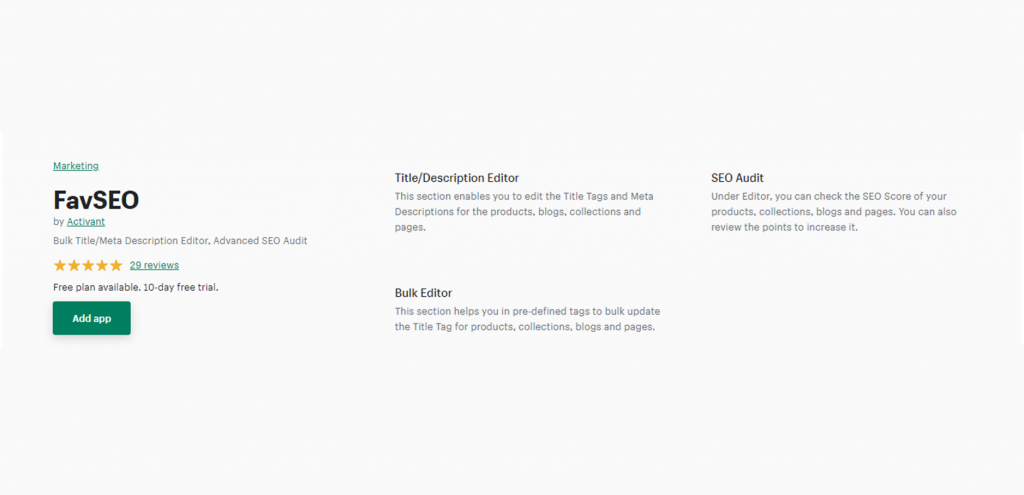 If you want to edit, analyse, and optimise your page's title tag and product meta description, you need to check out this app! FavSEO is an all-rounder Shopify SEO app with highly advanced features that offer smart functions and recommendations to improve the performance of your existing keywords. Considered as one of the best Shopify SEO apps & tools, FavSEO will help determine the products lacking essential SEO functionality and direct you with ways to get them to rank higher on various specific services by Google such as search console, Webmaster Tools, and Google Analytics.
Store owners can allow you to check and fix all title tag and meta description issues of your product, pages, and item collection in one place. You can also perform an SEO audit to check the SEO score of your products, collections, blogs and web pages. The best? Novice Shopify store owners can consider their live chat support in case stuck somewhere in the middle.
Price:
FavSEO offers a 10-day free trial to store owners with features like editor, home page SEO score, page speed, and keyword Suggestions. You also get a premium edition with advanced features which will cost $20/month.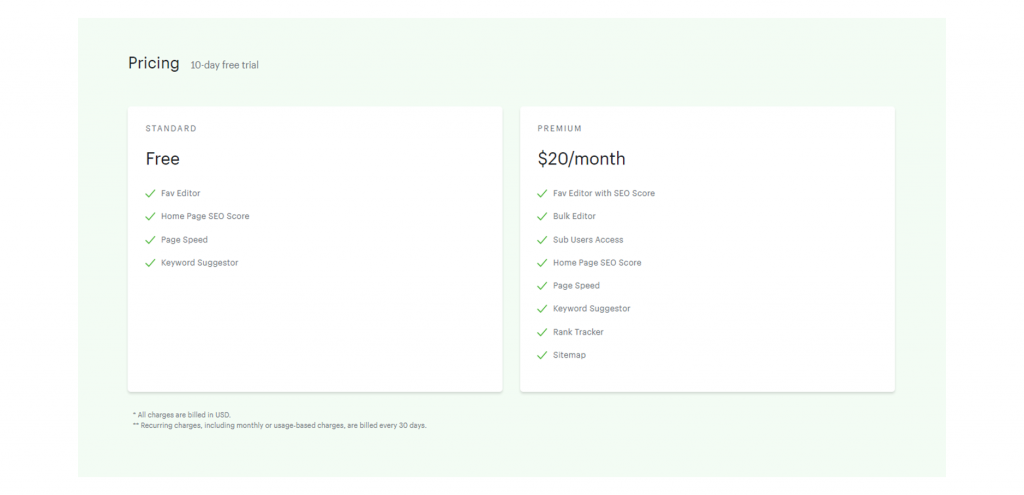 Top Feature:
Title tag and Meta description editor

SEO audit check of SEO scores

SEO optimisation

Keyword suggestion

Website rank tracking

Bulk title tag editor for product pages

Sitemap integration

Live chat support
14. Schema Plus for SEO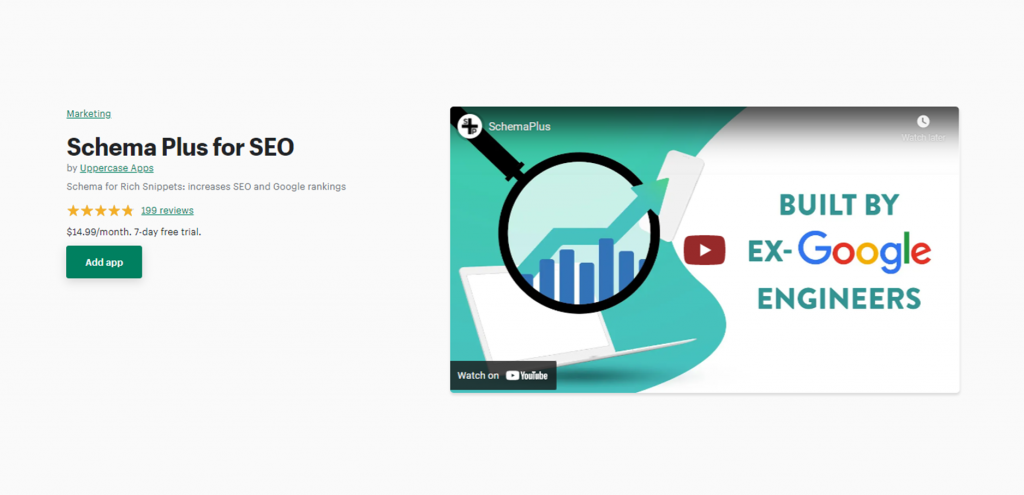 Schema Plus for SEO is far more advanced than basic Shopify SEO apps available. The app features a highly advanced markup code for your site, thus allowing it to be indexed on Google faster and efficiently. You have focused on creating informative and user experience focused content to allow crawlers to index your page on SERP. Furthermore, it will also streamline the connectivity of search terms and get your site in front of the target audience quickly. Schema Plus is the only Shopify SEO app that reports your store reviews to Google. Using Schema Plus will allow you to add reviews and professional appeal to your site to make it trustworthy among the target audience. In just one click, you can install Schema Plus and get started with the SEO enhancement process.
Price:
Schema Plus offers you a 7-day free trial with a basic SEO feature. After the trial period, you can consider Schema Plus Pro Edition which will cost you $14.99/month.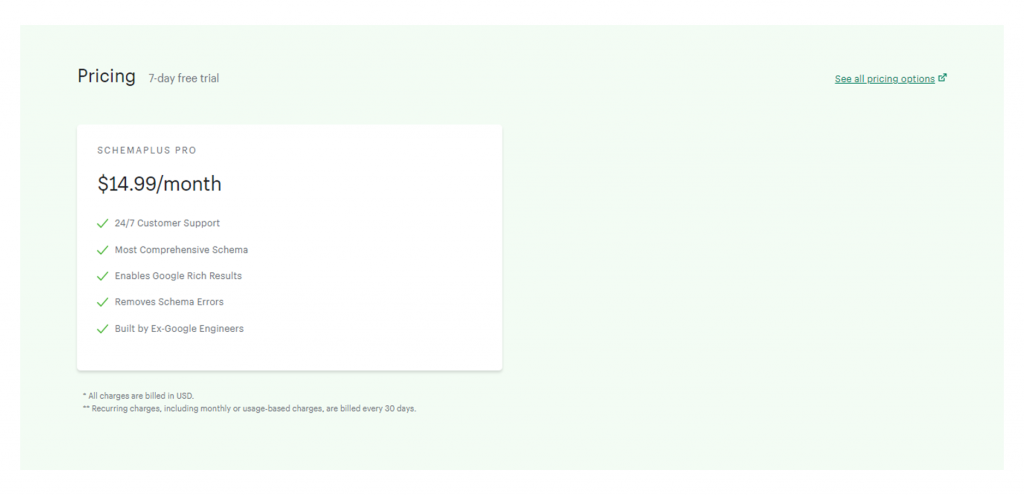 Top Features:
Improved site indexing

Automate content markup

Free trial

Beginner-friendly schema and Google integration

24/7 customer support
15. AMP by Amplify Me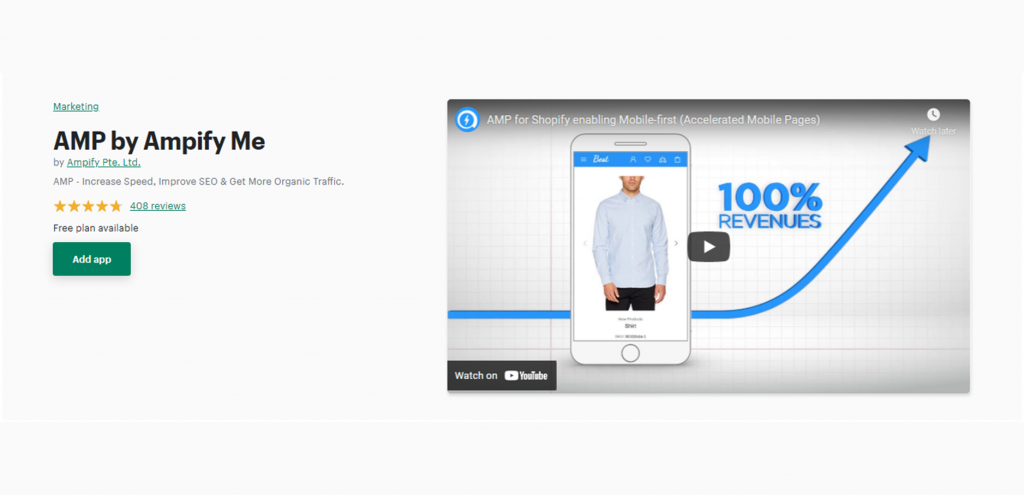 Developed by Amplify Me, AMP will get your eCommerce website on top of SERP. True to its name, AMP will boost the performance of your website, improve SEO, and ensure your store reaches highest peak. AMP is one of most commonly used Shopify SEO apps to increase traffic and drive sales through mobile devices. If you want to increase your user experience and attain maximum traffic, this Shopify SEO app is perfect for you!
Price:
AMP offer a free edition to Shopify store owners with features like unlimited AMP views and powerful editor. Apart from free plan, you get two paid plans Hobbyist and Small Company which will cost you $9.99/month and $29.99/month respectively.
Top Features:
Fast user-friendly eCommerce experience

Rich AMP editor 

Complete home page support

AMP validations

Custom domain with CDN and 99.9% SLA

Integrations with popular apps (like Progressify Me)

Analytics
16. Ultra SEO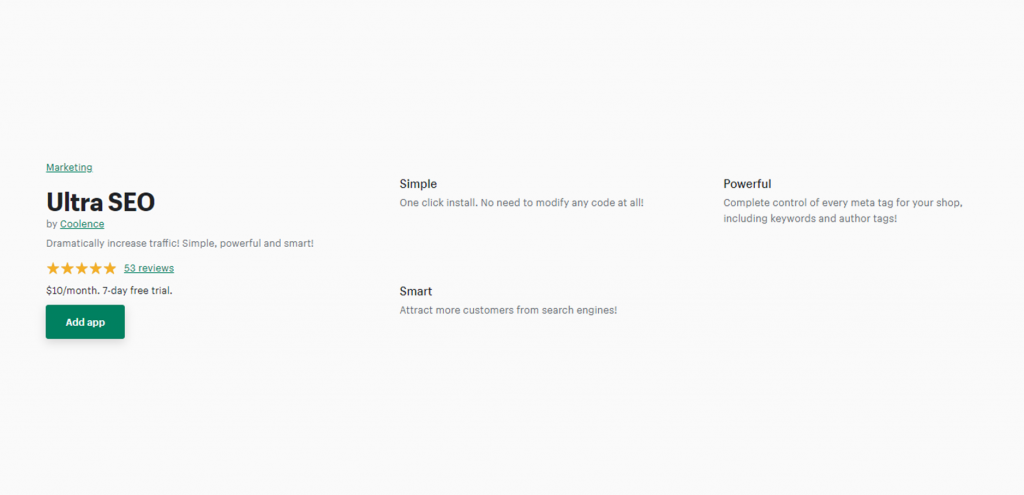 Shopify delivers various perks to the store owner. However, it lacks one of the most essential features – editing metal titles and descriptions. Ask any SEO specialist and they will explain the importance of meta title and description editing in the SEO optimisation process. This is where Ultra SEO can help you out. Ultra SEO offers store owners a comprehensive SEO dashboard that allows them to edit any product met tags, including the title, description, page keyword optimisation, and author name. Apart from getting an intuitive dashboard, store owners also get access to the preview tool which allows them to check how their metadata will look in SERP. Ultra SEO can also showcase the number of character in the text that requires optimisation.
Price:
Ultra SEO offers you only one plan which is a 7-day free trial edition. After the trial period, you can continue with the service by paying $10/month. 
Top Feature:
No code, one-click installation

Complete control over the website's Meta tags, keywords, and author tags. 

Quick SEO analysis with improvement recommendations

Budget-friendly Shopify SEO app
17. Bulk Image Edit – Image SEO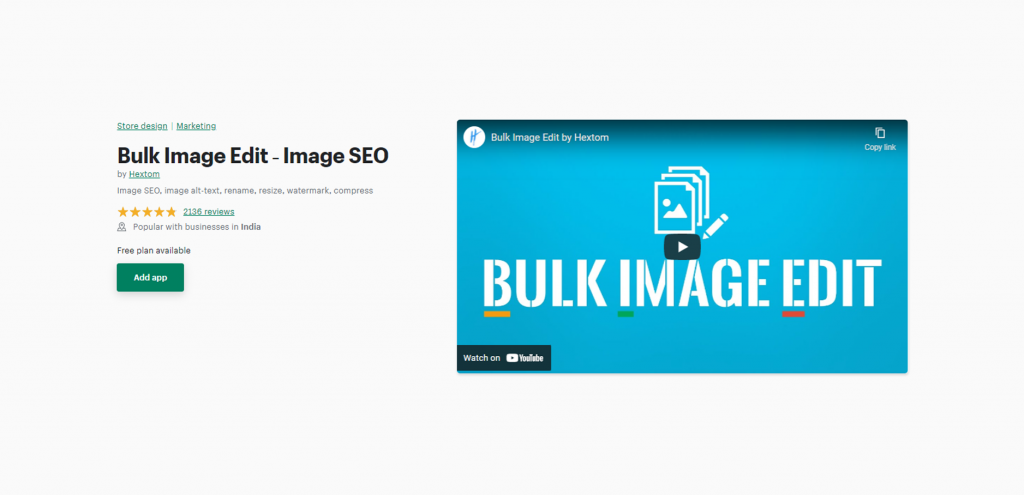 Bulk Image Edit – Image SEO focuses on improving the visual data of your online store. Developed by Hextom, this Shopify SEO app will optimise the size of visual data to boost page loading speed, allow you to add watermark to all your product images, and ensure these images fit well on various platforms, especially the social media channel. You can crop, scale, and resize images in bulk to provide a professional and aesthetic look to your online store. With Image SEO, online store owners can also use customised templates to update images, text, and filenames in bulk. 
Price: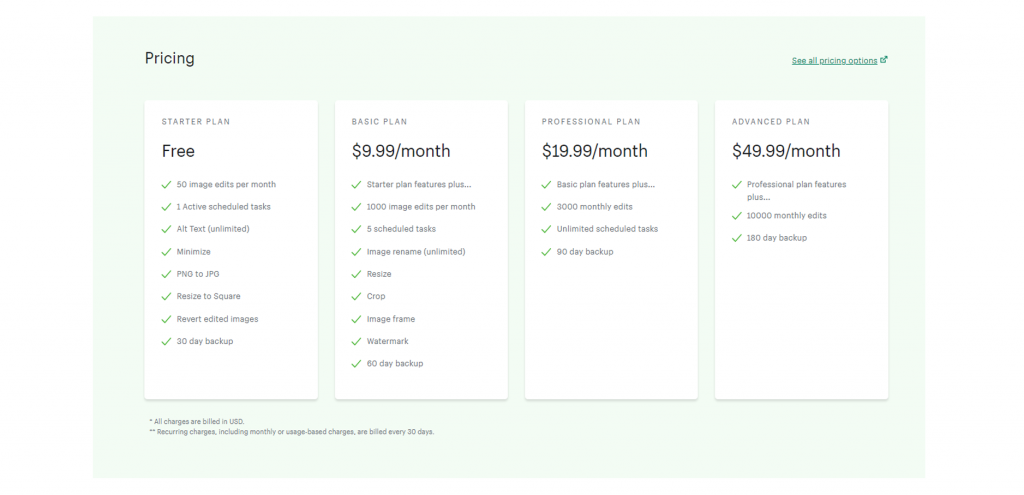 Bulk Image Edit – Image SEO offers four plans – Starter plan, Basic plan, Professional plan, and Advanced plan. While the starter plan is free of cost, the other three are paid editions with the Basic plan costing you $9.99/month, the Professional plan starting at $19.99/month, and the Advanced plan at $49.99/month.
Top Features:
Bulk image update

Automated new image optimisation

Crop, scale and resize images without quality loss

Undo and revert options

Bulk image and text watermarks

Preview image before upload
18. SEO Plus 
SEO Plus offers an effective way to increase your website's search rank through dynamic and fresh content. Developed by Varinode, Inc., this app allows you to publish the latest content to make use of organic keywords for optimisation purposes. What makes SEO Plus unique from other Shopify SEO apps & tools is its advanced code modification feature. Even novice Shopify store owners will be limited (or zero) knowledge in coding and can use this app. You can also make desired changes to your content to blend with the website.
Price:
SEO Plus is completely free!
Top Features:
Automated content updates for products

Displayed content modification and appeal

Integrated with various devices (Desktop, mobile, tablet, etc.)

Organic keyword optimisation

Customisation feature with advanced codes

Support multiple languages
19. Schema App Total Schema Markup
With Schema App Total Schema Markup, Shopify store owners can attain higher click through rates and sale by getting rich snippets of product data and reviews. Developed by Schema App, this Shopify SEO app will provide a complete schema markup and help you acquire higher click-through rate and conversions. The best part about Schema App Total Schema Markup is its built-in support for reviews. Meaning when your customer puts up a review, it will automatically update the schema mark for you and allow Google to recommend your product/services over others.
Price:
Schema App Total Schema Markup offers two paid plans – Core and Advanced. Core plan will cost you $15/month, while Advanced plan will cost you $30/month.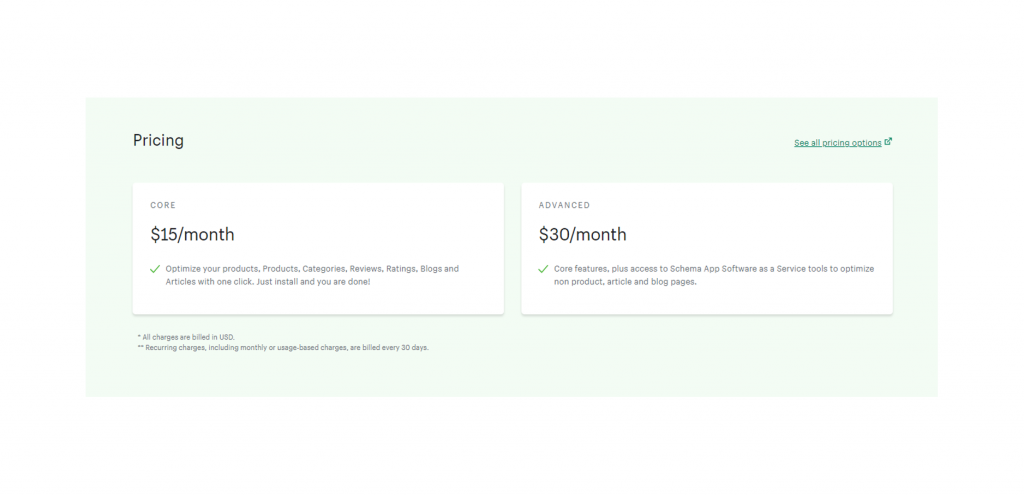 Top Features:
Optimised schema markup

Rich snippet

Simplified voice and manual search 

Google Merchant Center Ready
20. SEO AMP by Shop Sheriff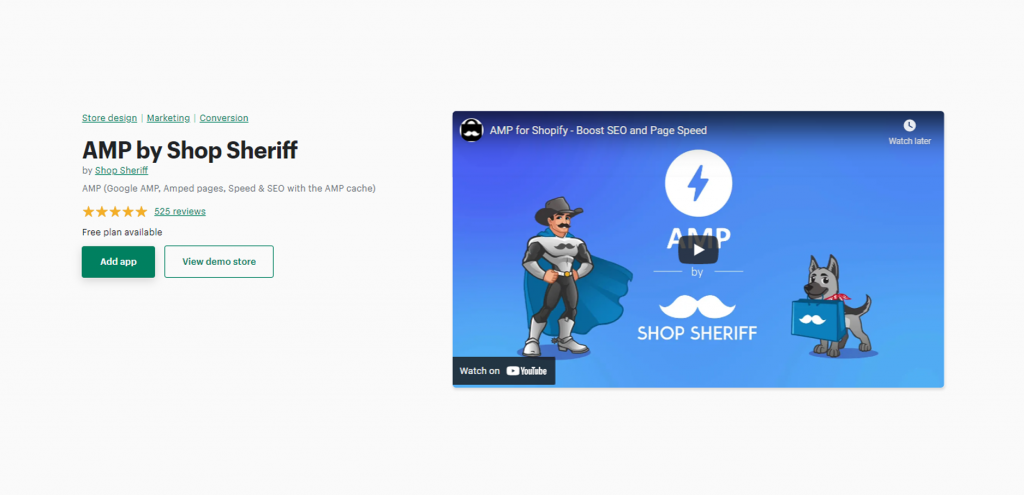 To achieve maximum conversions and sales, you need to invest in user experience. With millions of individuals using mobile phones to search for a particular product/service on search engines, user experience and Shopify speed optimisation becomes even more necessary than ever. AMP (Accelerated Mobile Pages) is one of the crucial steps in making all pages on your website accessible to the target audience quickly. SEO AMP allows you to set up AMP for your Shopify store and help attain exceptional page speed for ranking purposes. 
Price:
Store owners can consider any of these plans suitable for their eCommerce business:
Free Plan

Hobbyist Plan: $9/ month

Company Plan: $29/ month

Enterprise Plan: $99/ month
Top Features:
Creation of AMP-specific web pages

URL optimisation for SEO growth

Editing AMP sidebar links

Integrate Google Analytics and Google Tag Manager for page optimisation
Some Common Questionnaires
1. What are the Best Shopify SEO Apps?
Choosing the best Shopify SEO app depends on various factors, including your overall SEO goal. All 20 apps mentioned above are some of the best Shopify SEO apps an online store owner can consider.
2. Is Shopify best for SEO?
Shopify consists of all features required to scale your business in this digital world. Besides, the best SEO apps for Shopify can further improve the SEO performance of any eCommerce store.
3. How Do I Get Better SEO on Shopify?
Implementation of SEO-focused strategies and practice use of such Shopify SEO apps & tools can allow you to get better every day. 
4. Which SEO Tool is the Best?
As mentioned before, the best SEO tool for Shopify stores depends on your business need and suitability. You can try to use a free version of the apps or consider eCommerce consulting for appropriate assistance.
Final Thoughts
And that's a wrap for the 20 best Shopify SEO apps and tools for eCommerce websites! Each Shopify SEO app highlighted brings various features to the table and can be used based on the business need. 
If you're unsure about the appropriate Shopify SEO app for your online store and need assistance for the same, feel free to reach out to us! 
We help Shopify online stores to achieve new heights and attain maximum growth through eCommerce marketing and consulting. Contact us for in-depth information on these Shopify SEO apps!